Aug 27, 2021
Key specs:
Cincon is delighted to announce our latest product, the DC/DC converter EC4SAWH series. This product offers 6 watts in an industrial standard SIP-8 package. With 9 to 36 VDC and 18 to 74 VDC input voltage (4:1 input range), the series offers output voltage of 3.3 VDC, 5 VDC, 12 VDC, 15 VDC, ±5 VDC, ±12 VDC, and ±15 VDC.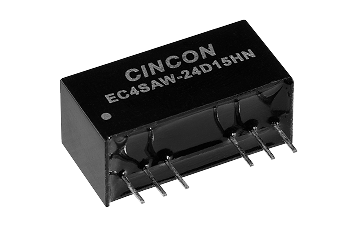 Exceptional Performance:
Efficiency up to 87.5% allows a case operating temperature range of -40°C to 85°C.
Key Functions:
The series has a negative remote on/off control.
Full protections:
The protections include over current protection, continuous short circuit protection and 3000 VDC I/O isolation. Also, safety meets IEC/EN/UL 62368-1.
Applications:
The series is suitable for distributed power architectures, telecommunications, battery operated equipment, and industrial applications.
Related Link

Technical Data