June 15, 2018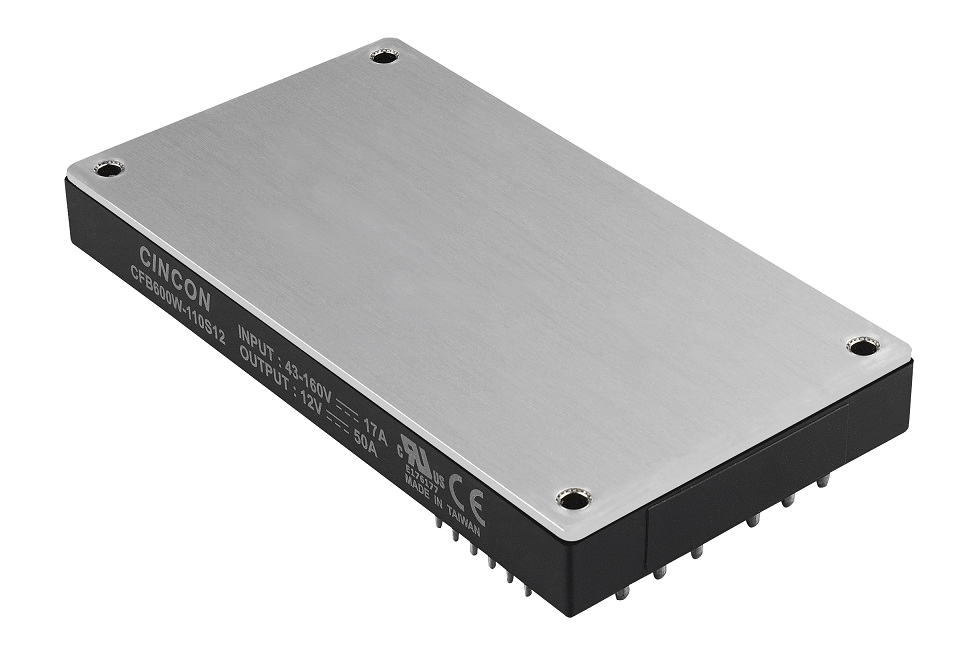 Key Specs:
The DC-DC converter CFB600W-110S offers 600 watts of output power @ single output voltages of 12, 24, 28, 48VDC with industry standard full-brick dimension. It has a wide (4:1) input voltage range of 43 to 160VDC (110VDC nominal) and 2250VDC basic isolation.
Exceptional Performance:
High efficiency up to 88%, with a case operating temperature range of –40°C to 100°C. An optional heat sink is available to extend the full power range of the unit. Additionally, this product has a low no load power consumption (25mA), an ideal solution for energy critical systems.
Key Functions:
Compliant with EN50155, EN45545, EN50121-3-2. The standard control functions include negative logic remote on/off (remote on/off for positive logic is optional), and +10%, -40% adjustable output voltage.
Full Protections:
Fully protected input UVLO (under voltage lock out) against output over-current, output over-voltage and over-temperature and continuous short circuit conditions.
Applications:
CFB600W-110S series is designed primarily for common railway applications of 72V, 96V, 110V nominal voltage and also suitable for distributed power architectures, telecommunications, battery operated equipment and industrial applications.
Related Link

Technical Data