June 28, 2019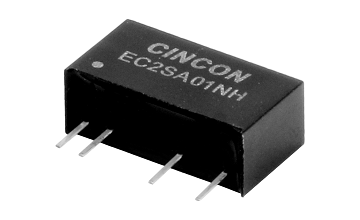 Cincon announces new EC2SANH series, a 2 watts unregulated DC-DC converter in industry standard SIP package. They have a high isolation voltage of 3000VDC, and continuous short-circuit protection.
The efficiency is up to 85%, while the operating ambient temperature range -40 to +105°C, with de-rating above 85°C.
The EC2SANH series features in a miniature size of 0.77 x 0.28 x 0.40inches (19.6x7.2 x 10.2mm). It also has an input voltage range of ±10%, with input voltages of 5, 12, and 24 Vdc. The unregulated output voltages are available in 5V, 12V, 15V, ±5V, ±12V, and ±15V.
This new DC-DC converter is suitable for applications of telecommunications, distributed power systems, battery operated equipment, industrial, and portable equipment.
Related Link

Technical Data