July 31, 2019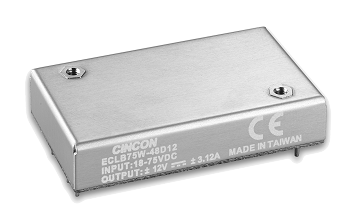 Cincon introduces the new series ECLB75W, packaged in a 2.05 ×1.2x0.4 inches six-sided shield metal case. ECLB75W series provide up to 75W of output power @ single output voltages of 5, 12, 15VDC and dual outputs voltages of ±12, ±15, and ±24VDC. These modules are compliant with industry standard 2" × 1" footprint. It has a wide (4:1) input voltage range of 9-36 and 18-75VDC and 2250VDC isolation.
ECLB75W series have a very high efficiency up to 92.5% and allows ambient operating temperature range of –40°C to 85°C (de-rating above 54°C with heatsink). The modules are fully protected against input UVLO (under voltage lock out), output over-current, output over-voltage and over-temperature and continuous short circuit conditions. ECLB75W series also feature very low no load power consumption (As low as 8mA), which make these converters an ideal solution for energy critical systems. Furthermore, the standard control functions include remote on/off (positive or negative) and 80%~110% adjustable output voltage.
All models are very suitable for distributed power architectures, telecommunications, battery operated equipment and industrial applications.
Related Link

Technical Data