Mar 5, 2021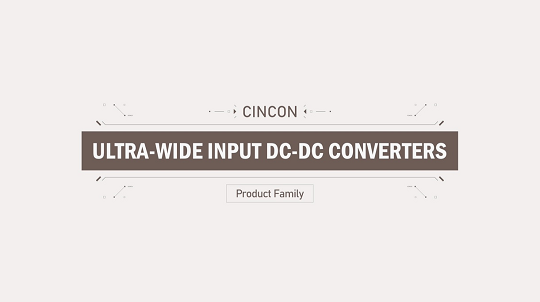 The new video of Cincin Ultra-wide input range DC-DC converters has been released. The ultra-wide input range DC-DC converters are now the highlighted product category of Cincon. The input range starts from 8:1 to 18:1 ultra-wide input range which is the widest in the world. Packages like 2"x1", Quarter brick, Half brick are available. In addition, plug-in ready to use chassis-mount modules are also offering.
These converters accommodate circumstances like inadequately regulated power supplies and have a higher capability to withstand spikes and transient voltages. They convert any on-board available voltage inputs that generate less power loss and reduce costs/inventory of the supply chain. The Ultra-wide converters are handy in battery applications and deliver a steady and slightly high rated voltage.
For the ultra-wide 18:1 input range DC-DC converter, Cincon offers a series of 2"x1" 20W DC-DC converters with single and dual output options and the efficiency up to 90% and the EC7BW18 is the iconic product series which has been introduced into various projects related to railway, telecom 5G, wifi, industrial and many other applications.
Check the products now:
Ultra-wide Input range DC-DC Converters Product Page
Sincerely,
Cincon Electronics Co., Ltd