Cincon Releases New Half Brick Size AC-DC PFC Module─PFC750
#Product Press Release
#AC-DC Power Supply
#Industrial / ITE
#Baseplate-cooling / Fanless
Nov 26, 2021
Key specs:
With the universal input range of 90 to 264 VAC, the PFC750 AC-DC power module is equipped with active power correction function and provides 750W output power at 390 VDC output voltage. In addition, it is designed in an industry standard half-brick (2.28" x 2.40" x 0.50") package. It has safety approvals for IEC/EN/UL 62368-1. Moreover, its baseplate cooling design is perfect for fanless solutions.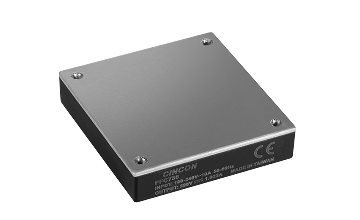 Exceptional Performance:
This power supply offers higher power factor correction up to 0.99 and efficiency up to 96.5%. A wide operating case temperature range of -40°C to 100°C covers most of the extreme environments. Also, this power supply can be used at a high altitude up to 5000m.
Key Function:
One of the key functions of PFC750 would be the power good function that shows the status of the PFC750 and lets the paired DC-DC converters know the module is ready to work.
Full Protections:
The PFC750 is approved by IEC/EN/UL 62368-1. Other protections include Brown-In/Out Protection, Over Temperature Protection, and Over Voltage Protection
Applications:
This power supply is very ideal for data center, telecommunication devices, EV charging, industrial control system, and light/heavy industrial applications.
Related Link