Aug 5, 2022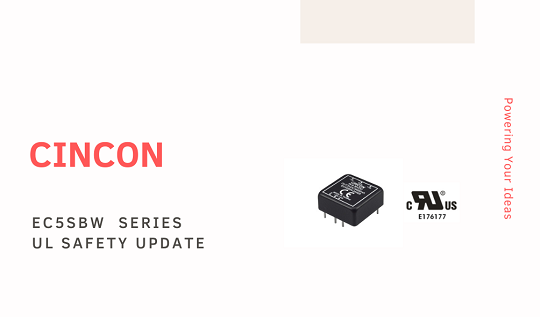 Cincon is delighted to announce the EC5SBW series safety update of UL 62368-1 which is the safety standard for information and communication technology (ICT) and audio/video (A/V) equipment.
EC5SBW is the isolated 1 x 1 inch 30W DC-DC converter with 4:1 input range starting from 9 VDC to 36 VDC and from 18 VDC to 75 VDC. The series is suitable for various industrial and telecommunication use such as distributed power architectures, instruments, routers, industrial PCs, industrial automation devices, signal control systems, navigation system, antenna power unit, e-bike system, and other industrial applications.
The available output voltages are 3.3 VDC, 5 VDC, 12 VDC, 15 VDC, ±12 VDC and ±15 VDC. In addition, the series can be operated within ambient temperature range of -40°C to 85°C and the case temperature is up to 105°C. Also, the efficiency is up to 90%.
Product page: EC5SBW
Contact sales@cincon.com.tw for support and sample.