October 25, 2019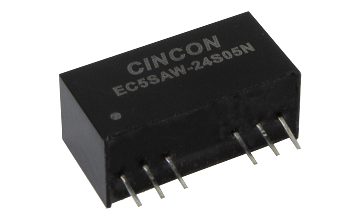 Cincon announces new EC5SAW series of 10 watt, 4:1 wide input range, isolated DC-DC converters in industry standard SIP-8 packages. The efficiency is up to 89% (typical), and 3000VDC/2000VAC minimum isolation. Operating ambient temperature range -40 to +85°C compared to other competitive models in the market.
EC5SAW series offers two input voltage range of 9-36 and 18-75VDC, and provides a regulated output. EC5SAW series is available in output voltages of 3.3V, 5V, 12V, 15V, ±5V, ±12V, and ±15V. Other features include continuous short circuit protection, remote on/off control and very low no load power consumption (6mA typical), which all makes the EC5SAW an ideal solution for energy critical systems. All models are very suitable for distributed power architectures, telecommunications, battery operated equipment and industrial applications.
The EC5SAW series measure 0.87x0.37x0.47 inches (22x9.5x12 mm), with industry standard pin outs. The converters' small size takes up less PCB space allowing designers more room to add extra features, or alternatively to reduce the size of the end product.
Related Link

Technical Data