November 1, 2019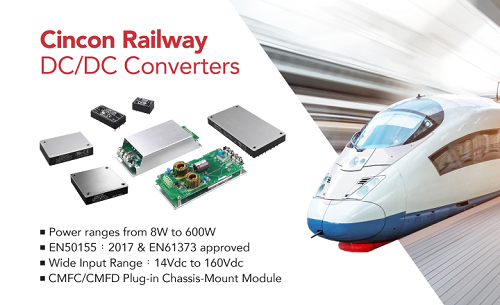 Regarding EN50155 railway certificated power conversion products, Cincon offers a wide range of selections from 8W to 600W. In general, the first thing you need confirm is if the product has EN50155 certification. Second, to consider if the input voltage is wide enough to cover multiple voltage requirements in a railway system. Third, to see if there is any module for convenience to save your cost and time.
1. EN50155: 2017
All products comply with the 2017 edition, the latest version of the railway standards. Many of the changes which are more comprehensive and stricter when compared to the EN50155: 2007 edition.
The changes include the following critical items: operating temperature, relative humidity, battery voltages, interruptions in supply voltage, supply voltages for rolling stock powered by combustion engines, reliability, useful life, capacitance to ground/earth, PCBs, protective coatings, type testing, dry heat thermal test, and voltage withstand test.
With so many changes, Cincon's Railway DC/DC converters bring you the most updated design compliant with the latest standard.
2. Wide Input Range:
One of the advantages of a wide input DC converter, is that rather than buying and stocking multiple products, one can cut cost and inventory by using a single product that supports the various voltage requirements in the railway system. The table below shows the voltage specified in EN50155 and the input voltage covered Cincon Railway DC/DC converters:
Nominal
Input Voltage
EN50155
Cincon
Railway DC/DC Converter
Input Range
Min. Input (0,1s)
Max. Input (1s)
Input Range
24V
16.8-30V
14.4V
33.6V
9-36V, 14-160V
28V
19.6-35V
16.8V
39.2V
14-160V
36V
25.2-45V
21.6V
50.4V
18-75V, 14-160V
48V
33.6-60V
28.8V
67.2V
18-75V, 14-160V
72V
50.4-90V
43.2V
100.8V
43-160V, 14-160V
96V
67.2-120V
57.6V
134.4V
43-160V, 14-160V
110V
77-137.5V
66V
154V
66-160V, 43-160V, 14-160V
3. CMFC/CMFD Plug-in Chassis-Mount Module:
The modularized Plug-in Cincon CMFC/CMFD series is a value-added series which could help you in solving the unpleasant EMC issues. Cincon also offers a detailed application note as the guideline tool to reduce your development time.
Related Links:

Product Overview Page


Download Catalogue /

Download Flyer1 /

Download Flyer2