Cincon New EN60335-1 AC/DC Power Supplies Category
#Featured Product Article
#Update Notice
#AC-DC Power Supply
#Industrial / ITE
#Household
May 08, 2020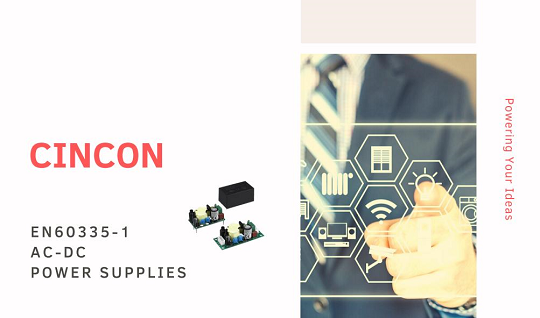 Cincon is pleased to announce the availability of the new category of EN60335-1 AC-DC power supplies on the official website for you easier to choose.
The ITE approval is a must have for Cincon AC/DC power supplies, but we offer more than that for many of our products. There's no doubt that smart home is a growing trend and the IOT will soon be linking home appliances together in everyone's home. To adapt to this change, not only do Cincon's power supplies have ITE approvals, but they are also designed to meet IEC/EN60335-1 Household appliances which is a value-added design with multiple uses.
Home health care devices will also be part of the smart home system in the near future. Cincon offers medical safety approved open frame modules from 20W to 300W. They are also designed to meet IEC/EN60335-1.
Check the below link to see the category:
EN60335-1 AC/DC Power Supplies