Sep 11, 2020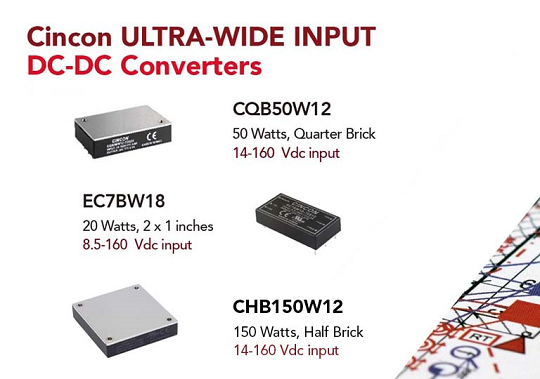 In a power system, it may common to see various voltages used for distributing the needed power throughout the whole system. Therefore, it becomes essential to have a single DC-DC converter that could convert any on-board available voltage inputs, which not only generate less power loss, but also reduce costs and inventory of the supply chain. In simple words, we can think to "Universal Input Voltage Range DC Converter" dedicated to the power systems of railway, industrial, and other important applications.
Cincon just set up a new product category for this purpose. You will see the ultra-wide input range DC-DC converters in this product family. The input voltage range starts from 8:1 to outstanding 18:1.
In the next week, we will be introducing a new product, CHB150W12 series, 150W & 12:1 ultra-wide input range. Stay tuned for the latest product news with Cincon.
Come and check the updated product page:
If you're interested in any product, contact local Cincon distributors or Cincon
(sales@cincon.com.tw) directly for more details!