Nov 06, 2020
Key Specs: SIZE & IEC/EN60101-1-11 approved
In an exceptionally miniature size of 150*70*38mm, the TR160M series is our new 160 watts, 2MOPP desktop adapter. It has both Class I (C14) & Class II (C8) options, and wider than before universal input Range of 80~264VAC. It is IEC/EN/UL 60601-1 approved and meets IEC/EN60335-1 & IEC/EN60101-1-11. This adapter is available in 4 different outputs of 12, 24, 36, and 48VDC.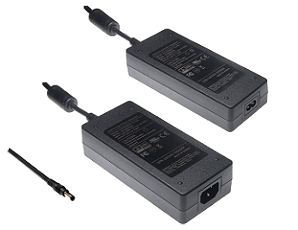 Exceptional Performance:
The power supply offers an extraordinarily high efficiency up to 93%, and a wide temperature range of -20°C to +70°C. At full power rating, it can go as high as +40°C, which covers most of the extreme environments. Also the power supplies can be used at high altitude up to 5000m max, and very low leakage current of less than 90μA.
Key Functions:
The TR160M meets IP22, and the new DoE energy efficiency level VI (US) and CoC Tier 2 requirements in the EU. It also features a low no load input power consumption less than 150 mW.
Full protections & Safety Approvals:
Fully protected against output over-current, output over-voltage and continuous short circuit conditions. It also has been approved IEC60601-1, EN60601-1, IEC/EN60101-1-11, ANSI/AAMI ES60601-1 2MOPP medical safety. In addition, all models meet EN60601-1-2 Ed4, EN55011 Class B, FCC Part 18 Class B emissions and immunity standards. IEC60601-1, EN60601-1, ANSI/AAMI ES60601-1 Ed.3.1 medical safety approved.
Applications:
The adapter is suitable for a variety of medical applications, such as healthcare such as ventilator, cardiac, diagnostic and monitoring equipment in the hospital and dental clinic. Furthermore, the design meets EN60335-1 for household appliance, as well as most industrial equipment.
Related Link

Technical Data