SEP 30, 2022
Key specs:
The EC5DAW series is our new 4:1 input range DC-DC converter that provides 10W of regulated power in the DIP-16 compact size of 0.95 x 0.54 inches (24.2 x 13.7 mm), saving the room of PCB for applications with critical limitation of space. The design of safety standard meets IEC/EN/UL 62368-1 and provides 3000VDC isolation (input to output).
The input ranges are 9-36VDC and 18-74VDC. This series is available in single outputs of 3.3, 5, 12 and 15 VDC, and in dual outputs of ±12 and ±15 VDC. The remote on/off function is also provided. In addition, this series is compliant to Shock & Vibration MIL-STD-810F.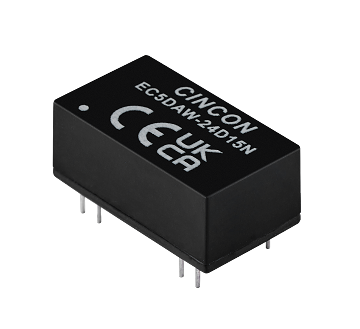 Exceptional Performance:
The EC5DAW offers the high efficiency up to 89%, and the wide operating case temperature range of -40°C to +105°C. Moreover, this DC-DC converter provides stable output due to ±0.5% max. for line regulation and ±1.0% max. for load regulation.
Full Protections:
The design meets safety standard IEC/EN/UL 62368-1. In addition, the EC5DAW series is fully protected by the input UVLO (under voltage lock out), output over-current, continuous short circuit protection. Moreover, the safety is ensured by the 3000VDC I/O isolation.
Applications:
This DC-DC power supply is very suitable for a variety of industrial/ITE applications such as information system, automation equipment, test & measurement instrument, commercial equipment, and more industrial applications.
Related Link