Sep 30, 2020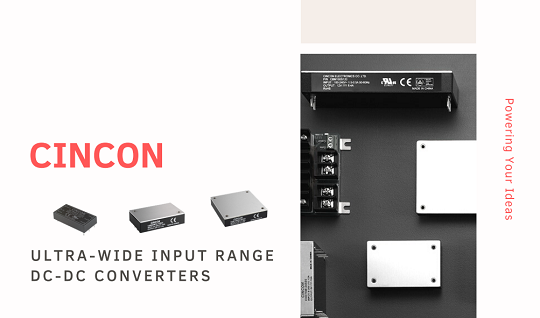 In all industrial, transportation, telecom, medical and many other applications, DC-DC converters are used in almost every system. Regardless of low power modules, or high-power train locomotives, the need for power conversion from a wide and various input ranges is always required.
Here is an example in the railway industry, where 24V, 48V, 72V, 96V and 110V are all used to distribute the needed power throughout the whole system, and it becomes essential to have a single DC-DC converter that could convert any on-board available voltage inputs, which not only generate less power loss, but also reduce costs and inventory of the supply chain.
In simple words we can think to "Universal Input Voltage Range DC Converter" dedicated to Railway Applications.
Another advantage where ultra-wide input comes in handy is where the application uses a battery. When battery is fully charged, it delivers a steady, although slightly higher rated voltage. However, when the battery power depletes, it drops to a lower than desired output. This phenomenon is most apparent in a cranking engine, where the power from the battery is greatly drawn in a short duration of times, and the output drops significantly.
Cincon's "Ultra-Wide Input DC-DC converter" and "DC-DC Plug-In Chassis Mounting-Ready to use" accommodate to these circumstances where the power supplies are inadequately regulated, and have a much higher capability to withstand spikes and transient voltages.
In the recent years, Cincon has been developing a series of Ultra-Wide input DC-DC converters, to facilitate all the various needs for customer application power conversion.
From the lower 20W, to the upper 200W, Cincon is your one-stop shopping place for all your needs.
Below we list just a few of Cincon Ultra-Wide Input product line:
Also check the ultra-wide input range page: click here