Apr 29, 2021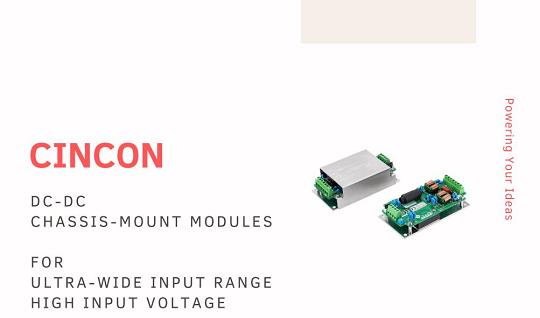 Your Fast Solution: DC-DC Converter Chassis-mount Modules
Cincon not only provides standard DC-DC converters, but also offers Plug-in Ready to Use DC-DC converter modules which are built-in with EMI solution in order to help you in solving the unpleasant EMC issues. In addition, Cincon has detailed application notes for you as the design reference to shorten your time of project development.
Various Modules for You to Choose:
So far Cincon has extended the power range from "30W~600W" to "20W~750W" covering more different nominal input voltages from 12Vdc to 380Vdc for the specific applications you need. These modules could be divided into railway application, general industrial use with the input voltages of 12Vdc, 24Vdc, 36Vdc, 48Vdc, 110Vdc for railway battery balancer, power board relay, door control system, passenger information system, IOT gateway, router, industrial signal control, etc. Cincon ultra-wide input range DC-DC modules could cover these distributed voltages. Choosing ultra-wide input range DC-DC module could simplify model combination, reduce inventory and logistic cost, save engineer product research time, increase spike voltage tolerance, and extend holdup time in the system with capacitor & battery.
Moreover, for high input voltage applications with input voltages from 270Vdc to 400Vdc, they could be distributed power architecture, telecommunication, data center, base station, battery-operated equipment, hybrid and electric vehicle, industrial control system and other industrial applications.
Recently, we have released 5 more series in 2021. The first 3 series are ultra-wide input range DC-DC modules, EC7BW18-ECRT/EDRT, CQB50W8-CMFC/D, CQB75W8-CFMC/D and the EC7BW18-ECRT/EDRT series is the first Cincon module built-in with the holdup circuit.
The last 2 series are high input voltage DC-DC modules, CQB75-300S-CMFC/D, CFB750-300S-CMFD.
The table shows the modularized Plug-in ready to use DC-DC converter modules:
Ultra-wide Input Range Modules for Railway and Industrial Applications:
High Input Voltage Modules for Industrial Applications: