Sep 22, 2023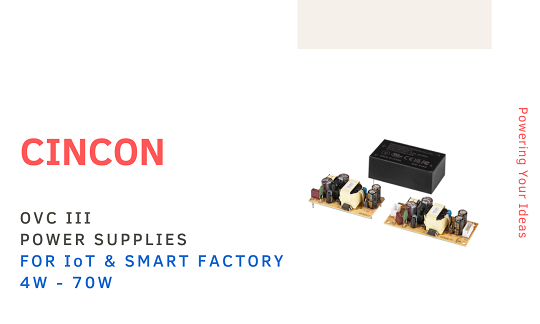 What is OVC?
The majority of power supplies available in the market are predominantly engineered and certified under the OVC II category. Nonetheless, there is a notable uptick in real-world applications demanding OVC III products, especially in fields like industrial automation and electric vehicle (EV) charging. In this context, we provide a brief introduction to the various Overvoltage Categories (OVCs).
In accordance with the IEC 60664-1 standard, the determination of the MAINS TRANSIENT VOLTAGE hinges on both the MAINS voltage and the designated overvoltage category, which spans from I to IV (as outlined in Table 1). Consequently, it becomes imperative to correctly identify the appropriate overvoltage category for each piece of equipment intended for connection to the MAINS (as illustrated in Fig. 1). This vital categorization ensures that the equipment can effectively withstand and operate safely within the prescribed voltage conditions.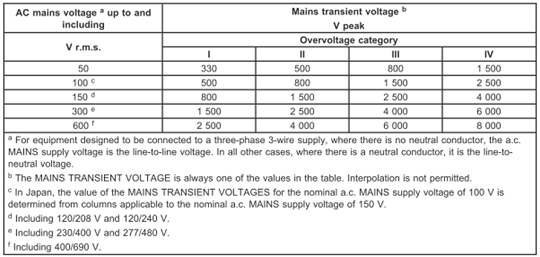 Table 1 Mains transient voltages


Fig.1 illustration of IEC OVC I to IV environment
Challenge of OVC III power design
In contrast to OVC II, when designing a power supply for OVC III, power supply designers must consider increased clearance and creepage requirements for the AC input side, input/output components, and the transformer during electric strength testing. Additionally, the inclusion of X1 and Y1 capacitors becomes a necessity. To better understand the distinctions in requirements between OVC II and OVC III, please refer to the details below.
 
OVC II
OVC III
Clearance distance
BI/SI
1.5mm
3.3mm
RI
3.0mm
5.5mm
Electric strength test
BI/SI
2.5 kV
4.0 kV
RI
4.0 kV
6.0 kV
Required X/Y capacitors
BI/SI
1 x Y1
1 x Y1
RI
1 x Y1 or 2 x Y2
2 x Y1
L to L or L to N
1 x X2
1 x X1
Table 2 comparison between OVCII and OVCIII requirements
Note: The above is based on the following conditions
1. Input voltage/working voltage < 250Vac/420Vpeak
2. PD2, the operating altitude is 2000 m
Why OVC III power supply?
In the fields of OVC III, it is separated into two applications as shown below.
1. Domestic
As illustrated in Figure 2, in a typical household, the majority of mains-powered equipment falls under the category of OVC II applications. Users can conveniently connect their devices to a wall socket, ensuring safe operation. However, in recent years, there has been a notable surge in the popularity of OVC III power supplies, specifically tailored for IoT applications, smart power metering, and the burgeoning smart grid technology.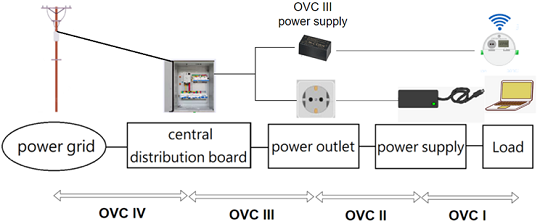 Fig. 2 IEC overvoltage category illustration for domestic
2. Industry
In Figure 3, we can observe typical applications for manufacturing automation and robotic controllers. According to IEC 60204-1, which applies to electrical, electronic, and programmable electronic equipment and systems used in non-portable machines during operation, using an OVC II power supply may require the use of a front isolated transformer. However, this solution is both heavy and costly.
A more efficient approach is to design the power supply for OVC III compatibility, allowing for direct connection to the supply within an OVC III environment. The primary advantage of utilizing OVC III power supplies is primarily cost and space savings resulting from the elimination of the need for a transformer.
Hence, these considerations elucidate why customers are currently seeking OVC III power supplies.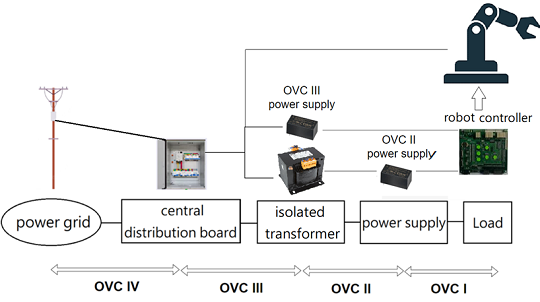 Fig. 3 IEC overvoltage category illustration for Industry
Conclusion
As industrial automation and electric vehicle (EV) charging continue to expand, the need for OVC III power supplies is steadily increasing. The utilization of OVC III power supplies provides not only space savings within the system but also a significant reduction in overall costs, thereby bolstering product competitiveness.
CINCON provides a series of OVC III products, ranging from 4W to 70W, featuring diverse packaging options including on-board open-frame, wafer, and on-board encapsulated designs. In the future, CINCON is committed to the ongoing development of OVC III power supplies for industrial applications, aimed at enhancing system integration performance.
Series
Power
(W)
Input Voltage
(Vac)
Output Voltage
(Vdc)
Features
Dimension
(inch)
CFM04S
4
85~305
3.3, 5, 12, 15, 24
Class II
OVC II & OVC III
Meets EN 60335-1
1.56x0.764x0.720
(PCB-mount)
1.62x0.83x0.787
(Encapsulated)
1.95.x0.71x0.689
(Wafer)
CFM06S
6
90~264
3.3, 5, 9, 12, 15,
24
Class II
OVC II & OVC III
1.555x0.764x0.720
(PCB-mount)
1.618x0.827x0.787
(Encapsulated)
1.950.x0.728x0.689
(Wafer)
CFM12S
12
90~264
5, 9, 12, 15, 24
Class II
OVC II & OVC III
EN 60335-1 Approved
1.500x1.000x0.764
(PCB-mount)
1.600x1.1x0.772
(Encapsulated)
2.150x1.000x0.681
(Wafer)
CFM20S
20
90~264
5, 12, 15, 24, 48
Class II
OVC II & OVC III
Meets EN 60335-1
2.382x1.300x0.906
(PCB-mount)
2.482x1.402x0.933
(Encapsulated)
3.000x1.300x0.831
(Wafer)
CFM25S
25
90~264
5, 12, 15, 24, 36,
48
Class II
OVC II & OVC III
EN 60335-1 Approved
2 Times Peak Load
2.000x1.100x0.980
(PCB-mount)
2.091x1.193x0.976
(Encapsulated)
2.776x1.100x0.906
(Wafer)
CFM50S
50
85~264
5, 12, 15, 24, 36,
48
Class I & Class II
OVC II & OVC III
Meets EN 60335-1
3.000x2.000x1.067
(Wafer)
3.000x2.00x1.142
(PCB Mount)
3.598x2.520x1.358
(Cover)
CFM70S
70
85~264
5, 12, 15, 24, 36,
48
Class I & Class II
OVC II & OVC III
Meets EN 60335-1
3.000x2.000x1.067
(Wafer)
3.000x2.00x1.142
(PCB Mount)
3.598x2.520x1.358
(Cover)
Contact us for sampling or technical support: sales@cincon.com.tw