Aug 28, 2020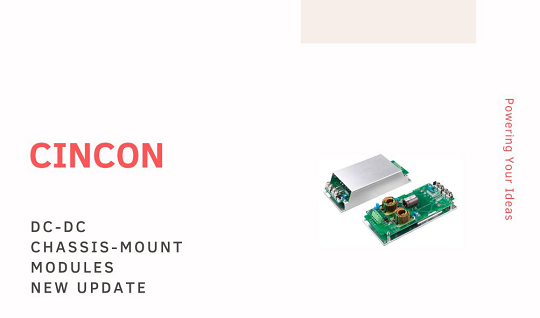 Your Fast Solution: DC-DC Converter Chassis-mount Modules
Cincon not only provides standard DC-DC converters, but also offers Plug-in Ready to Use DC-DC converter modules which are built-in with EMI solution in order to help you in solving the unpleasant EMC issues. In addition, Cincon has detailed application notes for you as the design reference to shorten your time of project development.
Various Modules for You to Choose:
The power range of the modules is from 30W to 600W coming with different nominal input voltages which are 12Vdc, 24Vdc, 48Vdc, 110Vdc, 300V and 380Vdc for the specific applications you need. These modules could be divided into railway application, general industrial use, and high input voltage applications such as distributed power architectures, telecommunications, data centers, base stations, battery-operated equipment, electric vehicles and other industrial applications.
Cincon also has modules with ultra-wide input range to cover the common input voltages required by general industrial use and railway application. This time we added CQB100W-110SXX-CMFC(D) Series & CHB200W-110SXX-CMFC(D) Series for people who need 100W and 200W output powers in railway application.
The table shows the modularized Plug-in ready to use DC-DC converter modules:
Suitable for Railway Application:
Industrial – High Input Voltage: