April 10, 2020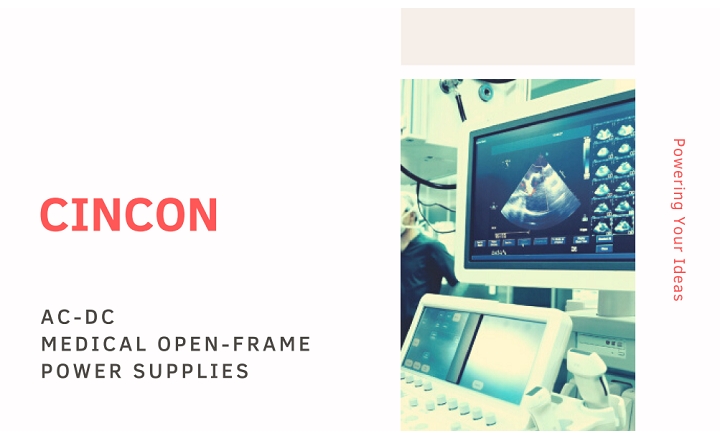 Cincon Medical Products Meet Highest Requirements: 
Accumulating a couple decades of experience in medical products design, Cincon provides customers with a variety of products and technical services.
Our AC-DC Medical products provide low leakage current and harsh environment endurance that meets the highest requirements of safety standard IEC60601, 2MOPP rated for latest medical power supplies. They are very suitable for medical devices such as ventilator, dental chair, and dental cleaning machine.
In addition, design also meets household application.
Power Range 20W-350W & Various Package Type for You to Choose:
In Cincon medical solution, the AC-DC medical power supplies offer the output power range from 20W~350W with different types which are the following:
1. On-board Type
2. Connector Type
3. Enclosed Type
4. Baseplate-cooling Type
Baseplate-Cooling Technology:
The new generation of medical power supplies are already built-in with Baseplate-Cooling design showing outstanding fanless heat dissipation.
Baseplate-Cooling offers the benefits:
1. Effectively exhaust heat from within the power supply.
2. Lowers failure rate of critical components within the power supply.
3. Providing more flexible installation of the power supply, and ability to withstand high temperature environments.
Key Features:
The following are the key features of AC-DC medical power supplies.
1. Class I or Class II Options.
2. Universal Input 90~264Vac, or wider input 80~264Vac.
3. Meet 2MOPP, and EN61558 (60335)
4. Safety meets for:
a.ANSI/AAMI ES60601-1/EN60601-1 Ed 3.1
b.EN60601-1-2 Ed4.0 Class B
5. CEC & ErP, Level VI Compliant.
6. Altitude up to 5000M.
Now we have stocks to support you to fight the COVID-19, please check the product line to find out what you need for your device.
Product Lines:
On-board
Class II
Connector
Class I
Enclosed
Class I
Class I & Class II
Class I
Baseplate-Cooled Design
Class I & Class II
Class I