November 11, 2019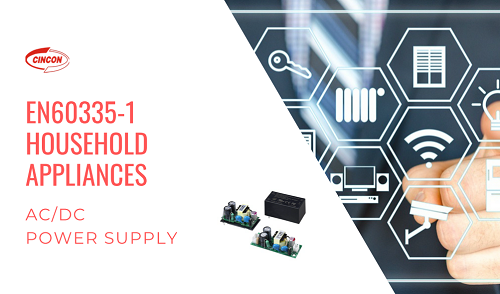 ITE approval is a must have for Cincon AC/DC power supplies, but we offer more than that for many of our products. There's no doubt that smart home is a growing trend and the IOT will soon be linking home appliances together in everyone's home. To adapt to this change, not only do Cincon's power supplies have ITE approvals, but they also meet IEC/EN60335-1 Household appliances which is a value-added design with multiple uses.
Here are the models from 6W to 150W which also meet EN60335-1:
CFM06S
CFM12S
CFM25S
CFM130S (Coming Soon)
CFM150S
Household devices will also be part of the smart home system in the near future. Cincon offers medical safety approved open frame modules from 20W to 300W. The models below also meet IEC/EN60335-1.
CFM21M
CFM40M
CFM60M
CFM100M
CFM130M
CFM150M
CFM200M
CFM300M